About Us
Know about us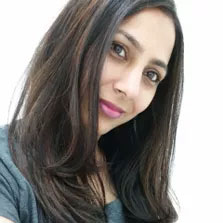 Hi I am Navi beautician in Craigieburn. After following my passion for years and completion of my education, i have started serving people to achieve their rights on beauty, worked for many years in reputed beauty salons in Sydney and Melbourne and made millions of people happy because they have got what they wanted for years.
Thick, arched, more noticeable eyebrows, volume natural look eyelashes, radiant glowing skin without any harmfull effects, that's what you want.
Dreamed about operating my own beauty salon in terms of working in a comfortable environment where i can choose whatever i want to suit your needs without any pressure and make more flexible decisions.
So my dream come true and now operating my own salon where you will be served for Threading anywhere on your face or neck, full body waxing including Brazilian, Tinting eyebrows and eyelashes to cover grey hairs and to make them more noticeable, Eyelash extensions for glamorous look, different types of facials to suit everyone's skin, Makeup for different occasions and at last but not the least Natural henna tattoo.
I pride myself in providing all above services in very cosy environment at affordable prices, so why to wait, book yourself in and let me take care of you as i used to do in beauty salon near me.